Hi Friends!
So as you know I have been working my way through Wellspring 2020 projects and playing catch up due to a late start.  Well given that situation, what else should I be doing but taking another class! I was browsing YT at the weekend and I came across a video about the Kaleidoscope Taster Week held by Tamara Laporte (Willowing) and I was curious as I recently bought her latest book Ever After, which btw is a beautiful book – just look at the cover!
So of course I signed up immediately because of course I have nothing else to do but paint!  Seriously, I actually could not wait to get started and I actually started the first lesson that night, and was still painting at One AM.  I was so disappointed that I had to stop for the night, because sleep is necessary, and got up early the next day to do more of it. So I'm telling you all this now because this taster week has been extended to TWO weeks, so there is plenty of time to work through all the lessons.  I have watched all the lessons so far but I am still on lesson one because I had to stop and meet some DT deadlines.
I've posted the video about it above, and there is a coupon code for 20% off the full Kaleidoscope course which starts in August.  The coupon code is BEAUTY2020 and is valid till August 1st, and I am still deciding whether I want to do it or not, and hope I will have a better idea once I have worked my way through this collection of taster lessons!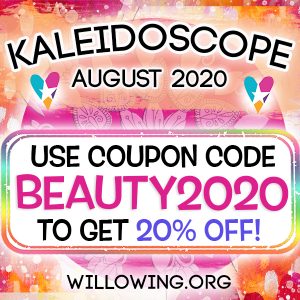 Short and sweet today as I'm off to do some more painting!  As always, thanks for reading!
PROJECT RECIPE:
From stash:
I started something new for April and continuing for May and June:
Since we are all stuck inside and can't leave the house, I thought I would try and do two things:
1. use this time to finish any unfinished projects
2. use as much recycled materials as possible (I do this a lot anyway) but also not to buy new stuff!
So, with that in mind, I will note the above on any posts, if applicable.
UNFINISHED PROJECT – NO
RECYCLED MATERIALS – NO, but nothing new used, no new purchases!
You might also like . . .