Hi everyone,
So as you know I have been working my way through Wellspring 2020 and as I mentioned in this post, I also started the Kaleidoscope Taster class by Tamara Laporte (Willowing) to see if I might like the full course which starts in August.  Here's the first painting I started working on based on one of the lessons in the Taster.

I was quite happy with my sketch but then when I started painting, her face seemed to change so now she looks like a different person. Not bad, just different.

And here it is finished:
Here's some smaller projects I managed to finish this week too (I say smaller but they are all on the same sized paper, so what I mean is quicker?)
A quirky pink lion!  Quite like him overall, except I messed up in his chest region and had to cover it up so then it lost the transparency that the rest of the piece has.

A very confused polar bear that looks like a giant blue koala! I don't know what happened, as he was definitely looking like a polar bear until almost the very end and then suddenly – blue koala!  LOL  Quite like Greta though and the orange background even though I don't like orange!


Painting in monochrome.  I've never really done this before and I'm quite amazed at how it turned out, and I love the colour I used too!

And some rainbow confetti!  I used Paperartsy Chalk Paints for this, the more translucent colours in the range and they blended together really well to make this rainbow.
I still have one project left to do that I didn't have time to do before the end of the week, so I might have a go at that one later and add it this post if that happens.
There is a coupon code for 20% off the full Kaleidoscope course which starts in August.  The coupon code is BEAUTY2020 and is valid till August 1st, and I am still deciding whether I want to do it or not, but I am leaning towards a yes.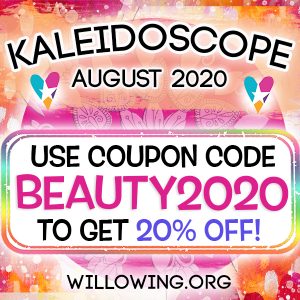 July is also #WorldWatercolorMonth so I'm off to a great start!  As always, thanks for reading!
PROJECT RECIPE:
From stash: everything
I started something new for April and continuing for May and June:
Since we are all stuck inside and can't leave the house, I thought I would try and do two things:
1. use this time to finish any unfinished projects
2. use as much recycled materials as possible (I do this a lot anyway) but also not to buy new stuff!
So, with that in mind, I will note the above on any posts, if applicable.
UNFINISHED PROJECT – NO
RECYCLED MATERIALS – NO, but nothing new used, no new purchases!
You might also like . . .