Hello friends!
Hope you are having a lovely Saturday and for those in the US, a lovely long weekend for 4th July!  Schools broke up for summer holidays last week and so naturally it's raining non-stop lol.  Today I have a Second on the Second post, which is something that is so easy to do but something that I so often forget!  And I would have completely forgotten again had it not been for Erika commenting on a post that made me go to her blog and see that it was July 2nd lol.  I have no idea what day it is sometimes, and so many things are geared up for the 1st of the month, and then the rest of the month is just forgotten.  I think the key is to plan them all in advance and get them scheduled since we are recycling content and we know what date to post – job done!  I have to work on that. The post I chose for this month, is the Kaleidoscope Taster Session post from the 2020 Taster Sessions.  That was the very first Kaleidoscope course that year and for some reason I thought it would be a one-off and not an annual event but here we are in 2022 and in the middle of 2022 Taster Sessions!  It's funny reading this post again as I was contemplating whether or not to join the full course, and I did end up joining, and of course, never finishing, but because of that I never signed up for it last year or this year.  The Taster Session content is more than enough for me.  BTW there are several free mini classes just about to happen in the next few days/this month.  Laly Mille has one, there is the Art is Magic one, and the Fodder School challenge!  I'm all about taking advantage of the free classes and saving myself some money.
Bleubeard and Elizabeth's Second on the Second Challenge asks that you bring back a post that you're proud of or an old one that was shared before anyone knew of your blog.    You can read the original post from 2nd July 2020 here.
Hi everyone,
So as you know I have been working my way through Wellspring 2020 and as I mentioned in this post, I also started the Kaleidoscope Taster class by Tamara Laporte (Willowing) to see if I might like the full course which starts in August.  Here's the first painting I started working on based on one of the lessons in the Taster.

I was quite happy with my sketch but then when I started painting, her face seemed to change so now she looks like a different person. Not bad, just different.

And here it is finished:
Here's some smaller projects I managed to finish this week too (I say smaller but they are all on the same sized paper, so what I mean is quicker?)
A quirky pink lion!  Quite like him overall, except I messed up in his chest region and had to cover it up so then it lost the transparency that the rest of the piece has.

A very confused polar bear that looks like a giant blue koala! I don't know what happened, as he was definitely looking like a polar bear until almost the very end and then suddenly – blue koala!  LOL  Quite like Greta though and the orange background even though I don't like orange!


Painting in monochrome.  I've never really done this before and I'm quite amazed at how it turned out, and I love the colour I used too!

And some rainbow confetti!  I used Paperartsy Chalk Paints for this, the more translucent colours in the range and they blended together really well to make this rainbow.
I still have one project left to do that I didn't have time to do before the end of the week, so I might have a go at that one later and add it this post if that happens.
There is a coupon code for 20% off the full Kaleidoscope course which starts in August.  The coupon code is BEAUTY2020 and is valid till August 1st, and I am still deciding whether I want to do it or not, but I am leaning towards a yes.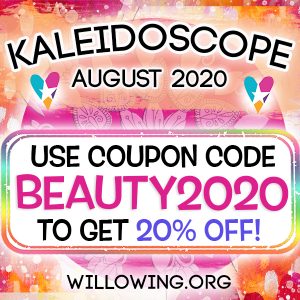 July is also #WorldWatercolorMonth so I'm off to a great start!  As always, thanks for reading!
PROJECT RECIPE:
From stash: everything
I started something new for April and continuing for May and June:
Since we are all stuck inside and can't leave the house, I thought I would try and do two things:
1. use this time to finish any unfinished projects
2. use as much recycled materials as possible (I do this a lot anyway) but also not to buy new stuff!
So, with that in mind, I will note the above on any posts, if applicable.
UNFINISHED PROJECT – NO
RECYCLED MATERIALS – NO, but nothing new used, no new purchases!
You might also like . . .
Challenges
You might also like these posts . . .